The Dominion Park Revitalization Fund
The Dominion Park Community Association is seeking support from individuals, groups and businesses for the Dominion Park Revitalization Project.
Funds are being raised for the construction of a new Adventure Centre to serve as a community hub as well as significant improvements to the playground and park on Saint John's west side.
The Dominion Park Community Association consulted with the community to develop a new vision for the park. Based on those consultations, the planned revitalization includes:
Phase 1    Adventure Centre: A new building would replace the temporary washrooms currently in place. It would incorporate bathrooms and changing rooms, a restaurant space for lease, as well as a community room for year-round rentals. The DPCA released its architect's rendering of the new Adventure Centre.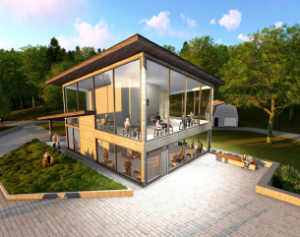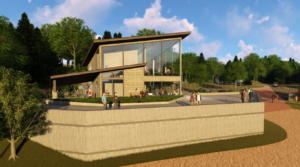 The nature and scope of the facility is subject to change according to the level of fundraising achieved and actual cost of construction.
Phase 2   New playground and trail:  To unlock Dominion Park's potential, the new playground will be reconstructed in a protected area away from the parking lot and street. Parents will have a beautifully designed space where they can watch their kids play and enjoy scenic views.
Phase 3 Welcome Plaza: The final phase will focus on flood proof seating and gathering infrastructure. This phase will also engage the pleasure craft and fishing enthusiast as it will focus on the boat launch and a segregated boat trailer parking area. The final piece to Phase 3 will be an overhaul of the beach and parking lot.
The scope and details of the development of phases 1, 2 and 3 could vary according to the level of fundraising achieved and the actual cost of construction.
The Greater Saint Community Foundation is pleased to support this community initiative. All donors will receive a charitable receipt for their donation.
View the Dominion Park Masterplan Video Below!
Donate now at:
https://thecommunityfoundationsj.com/funds/the-dominion-park-revitalization-fund/